Patient Information
Alexandra Family Medical offers a wide range of health care services. A team of general practitioners, nurses and administration staff work from the Central Lodge historical building in Alexandra, providing professional healthcare to you and your family.
Our team consists of 4 doctors, 3 nurses, 2 administrators and a practice manager.
We moved to our current location in May 2016, using the spacious and practical layout of this historical building to our advantage. We do have a spacious and private reception area and waiting room.
We share after hours cover with 3 other local practices for patients needing attention outisde business hours, in the weekend and during public holidays. Alexandra Family Medical is as well a participant in the Central Otago After Hours service that provides overnight cover for the whole Central Otago region.
Enrolments
To enrol simply call us on 03 901 6277, or download our enrolment form print it and bring it into Alexandra Family Medical, or you you can send it to us to: FreePost AFMC, PO Box 485, Alexandra 9340
Repeat prescriptions
Please call the practice on 03 901 6277 for repeat prescriptions
Nursing Consultations / Services
See services here
Patient Portal Health 365
We now work together with Health 365, a patient portal. This gives you the option of making appointments with your GP or nurse online, and requesting repeat prescriptions online. You can do this anytime, anywhere, as long as you have an internet connection. Registering for the patient portal is free of charge.
Existing users can login here
Alexandra Family Medical are pleased to offer a new service to their practice.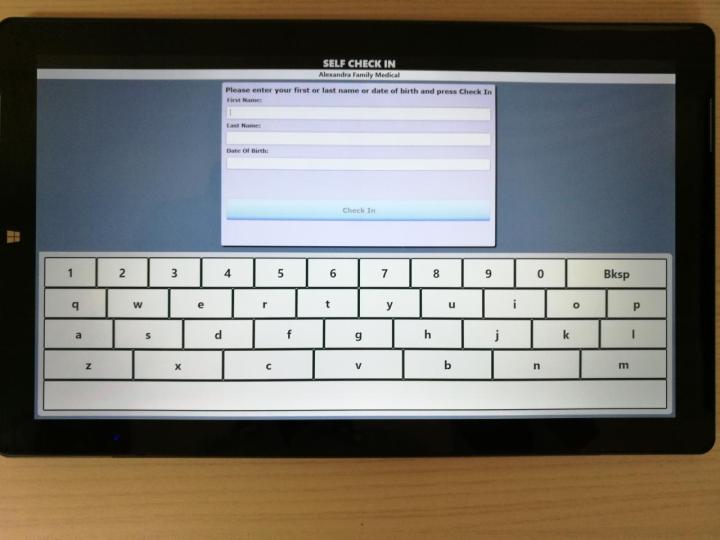 This is the tablet which will be sited in the reception area. When reception is extremely busy, patients during their arrival will be able to input their name. Click OK and go straight into the Waiting Room. The tablet is synchronised to the Practice Management System, so will indicate to reception and the Nurse/GP that the patient has arrived.